X-Ray Film Scanners and Digitizers, X-Ray Film Scanning Services and Software
Dental X-Ray Film Digitizing – What You Need to Know
posted Jul-31-2015
While paper scanning is an office task and can be done with general office equipment, any type of medical film digitizing, including dental film, is an imaging procedure governed by medical and industry regulations. Therefore, dental film digitizing requires specialized equipment that meets the regulations imposed by the FDA. Particular attention must be paid to accurately and reliably scanning the details in medical and dental films because a medical opinion and/or treatment decision will be made about patient care based on these scanned images. When making a diagnosis from an x-ray, image quality is everything.
What to Look Fo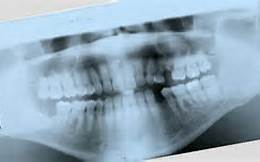 r in a Dental Film Digitizer
In addition to providing outstanding image quality and meeting FDA regulations, you should also:
Make sure that the dental scanner you choose can replace film as the legal original. There is no sense in digitizing your dental film if you still have to store the originals to comply with legalities.
Analyze your office digital workflow to make sure that you can integrate your digitized analog film into the workflow. Whether you're just converting into a digital practice, half-way there or fully converted, it never hurts to review your workflow to see if improvements can be made.
Consider space requirements and ease of use for the dental digitizer that you choose. The smaller the better, the simpler the better – as long as your diagnostic and legal requirements are met.
Ask about digitizing time — it should take mere seconds (roughly 18 seconds) to digitize a panoramic film.
Make sure that the dental digitizer you choose supports scanning of all dental film sizes: Panoramic, Cephalometric, and Intraoral.
Ask if any clinical studies have been done comparing film to the digitized images produced by the dental digitizer you're looking at. Reliable medical digitizers will have been employed in clinical studies at known institutes.
Mmake sure that the dental digitizer you choose can digitize patient films from other referral facilities or for consultation. You want referral patients brought into your digital workflow, not consigned to paper files and x-ray film in file drawers.
One Recommendation – the VIDAR Dental Digitzer
One device that meets the criteria is VIDAR's Dental Film Digitizer, which is specifically tailored for dental applications and is a regulated medical device for use in diagnostic applications. According to VIDAR, the VIDAR Dental Film Digitizer is able to produce digitized images as detailed as the original film. This is because VIDAR employs specialized optics to deliver quality results specifically for transmissive materials such as x-rays – not reflective media. The VIDAR imaging system is designed to accurately render the full grayscale data with minimal noise throughout the specified grayscale density range. VIDAR's medical products repeatedly meet demanding Optical Density tests that include specifications for both noise and linearity – at all grayscale steps. This is a calculation of clinically relevant Optical Density – not DMAX. For medical professionals this difference is important.
VIDAR claims over 20,000 placements of radiology devices, and is therefore the #1 selling medical film digitizer manufacturer worldwide. The VIDAR dental digitizer has the same image quality and reliability as the medical film digitizers have, and a variety of software connectivity options exist for easy integration into practice management systems.
VIDAR offers high-speed digitizing of dental images without sacrificing quality, and supports the digitization of all dental film sizes – for Panoramic, Cephalometric, and Bitewing films (in approved film holders).
Last Thoughts about Dental Digitizers
Remember when you go shopping for your dental x-ray digitizer you need more than a "scanner." You need a dental digitizing machine that will enable you to do everything you need to do for today and the future in your digital office.