X-Ray Film Scanners and Digitizers, X-Ray Film Scanning Services and Software
Healthcare Information Management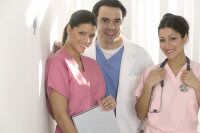 Our healthcare information management services are designed to reduce costs, secure patient information, and navigate the transition to the Electronic Health Record (EHR).
The changing times and technologies have created a series of competing priorities for healthcare organizations. Providing exceptional care and guaranteeing patient safety will always be the primary goal, but today these objectives must be met against increasing challenges and changes to our healthcare system:
Controlling costs
Making the change to Electronic Health Record (EHR)
Protection and recovery of data
Compliance with ever-changing regulations and requirements
HIPAA compliance
We recognize that healthcare providers are looking for creative solutions that lower costs and improve their efficiency. We believe that we offer a perfect opportunity for healthcare providers to benefit from our comprehensive healthcare document management services.
These developments and challenges are pushing healthcare leaders to find creative ways to drive down costs, be more efficient and not only preserve, but improve upon your level of patient information protection and security.
Radiology Services Online offers an extensive range of tools designed to help transform the way you manage, protect, store and recover patient information including:
Physical Records Management Services
Physical to Digital Conversion Services
Digital Cloud Storage Solutions
Healthcare Consulting
No matter where you are on your journey into the Electronic Health Record world, and even if your patient records are still paper files or film-based or somewhere in between, we can help you achieve the goals you set toward meeting your evolving needs and lower costs.
You can trust Radiology Services Online for your information protection and storage needs because we understand the issues affecting the industry. More importantly, we have the industry expertise and proven processes to support your organization.