X-Ray Film Scanners and Digitizers, X-Ray Film Scanning Services and Software
Microtek MII-900 Plus
Provides a fast and reliable RT film image digitizing in just seconds.
Microtek NDT/ RT Film Digitizing System is an all-in-one imaging solution developed
exclusively for radiographic inspection industry. It easily transfers the industrial
X-Ray film into digital images for storage and management and makes it convenient
to view and share for the professionals.
The MII-900 Plus lets you easily scan various sizes of industry X-Ray film up to 14″ x 52″,
which offers more flexibility in physical records digitizing. Simply using exclusive film
holders, the MII-900 Plus can automatically crop the scan frame to fit the size of original
film. Besides, the MII-900 Plus's 2400 dpi resolution, 16-bit grayscale, and 4.7 maximum
optical density (Dmax), allows it to capture a wide range of grayscale displaying tones
from light to dark gray.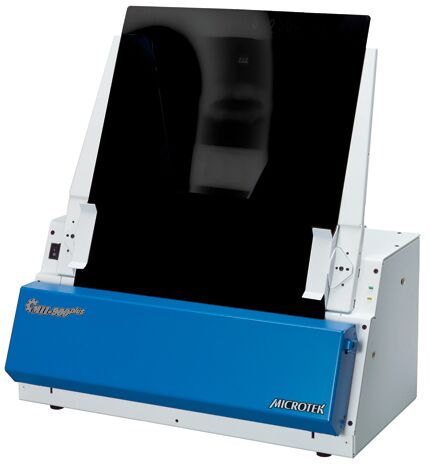 Furthermore, the system contains powerful image management software, MiiNDT, which is
tailor-made for Microtek industry film digitizers. It has a state of the art user interface
and offers rich functionality for easy to use, allowing to record the data related to the
film in digital format. It features many image adjustment and measurement tools to capture,
inquire, and measure images. It is a time-efficient and effective solution for industry
image management.
Features
Warm-up free with energy-saving LED light source
High performance in sheet-fed design
High quality
Large scan area
Powerful Software Features
Support DICONDE
---
Large scan area
Maximum scan area up to 14″ x 52″ covers all standard film formats.
High quality
2400 dpi resolution, 4.7 maximum optical density, and 16-bit grayscale capability.
Warm-up free with energy-saving LED light source
Adopting LEDs as the light source, there are no requirements for any warm-up time before
carrying out the scan, which boots your productivity and reduces energy costs amazingly.
With its stable performance, the image quality will remain consistent.
Powerful Software Features
Provides powerful image management, including image archiving, inquiry, measurement tools,
notation, reporting, viewing, CD burning, transferring, converting to DICONDE format, etc.
---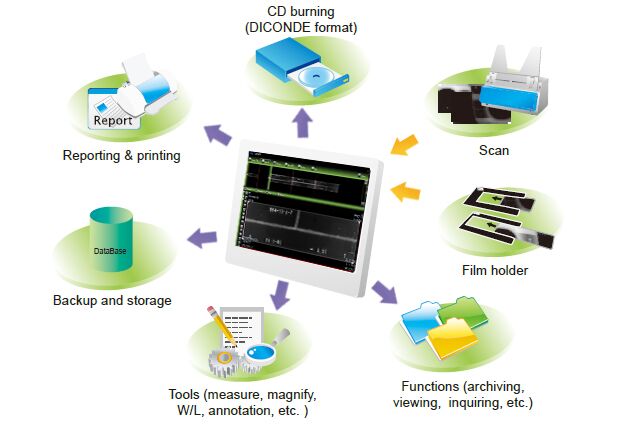 Specifications
Item
Details
Product Name
MII-900 Plus
Scanner Type
Sheet-fed film digitizer
Image Sensor Type
CCD
Resolution
2400 x 2400 dpi
Light Source
LED
Scanning Area
14″ x 52″ (355.6 x 1320.8 mm)
Scanning Speed
18 seconds at 300 dpi in grayscale per 14″ x 17″ film
Optical Density
4.7 Dmax
Dynamic Range
0.5D ~ 4.5D based on ISO 14096, DS 10.0
Bit Depth
8 / 16-bit grayscale
Paper Size
Min: 2.5″ x 2.5″(63.5 x 63.5 mm)
Max: 14″ x 52″(355.6 x 1320.8 mm)
Connectivity
Hi-Speed USB (USB 2.0)
Scanable Media Types
Transparent
Supported Film Types
8.5″ x 4.5″, 12″ x 3 1/3″
Dimensions (L x W x H)
10.2″ x 18.7″ x 9.3″/ 260 x 474 x 235 mm
Weight
19.82 lbs (9 kg)
Certifications
CE, FCC, BSMI, ETL, CCC, RoHS
Power Source
AC 100V ~ 240V, 47 ~ 63 Hz, 1.5A Max
Power Consumption
54.9 Watts
Inbox Contents
Digitizer unit with film holders
Power cord
High-Speed USB 2.0 cable
CD (includes scanner scanning driver)
Manual
Accessories
Film holders (8.5″ x 4.5″, 12″ x 3 1/3″)

Product specifications described herein are subject to change without notice.