X-Ray Film Scanners and Digitizers, X-Ray Film Scanning Services and Software
Records Retention / Scanning and Disposing of X-Ray Film
posted Jan-30-2015
Storing and maintain files of old medical X-ray film can take up a lot of space. You may have already gone digital and are ready to get rid of these cumbersome films, but before you start cleaning house, it's a good idea to review your legal requirements regarding the retention of medical records and the environmental requirements of disposing of X-ray film.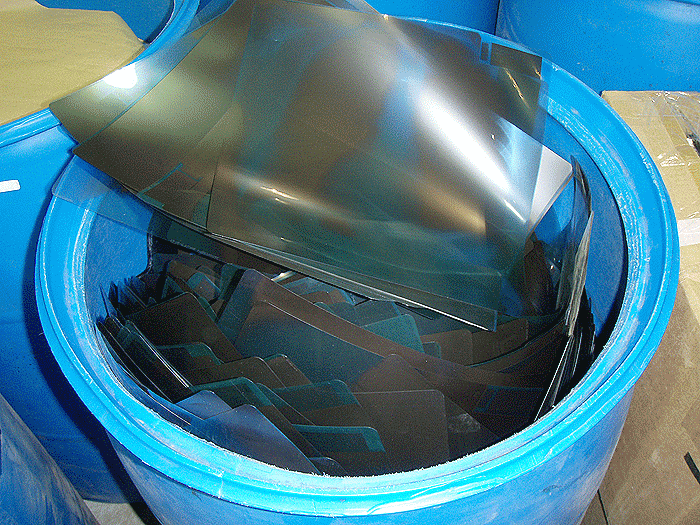 Disclaimer: Most of the information contained within this blog post was gleaned from the American Council of Radiologists.
Who's Responsible?
In one word, YOU! X-ray film fall under the requirements of medical record retention. Therefore, you must investigate and comply with all relevant federal and state laws and regulations regarding the retention of medical records. Hospital radiology records, including copies of reports, films, scans, and other image records, should be kept for five years, in compliance with Medicare regulations.
Additionally, all records and images produced by radiologists should be kept for the retention period required by law or regulation of the state in which your practice resides. If your state has no required retention period, then records and images should be kept at least for the maximum period that the state's statute of limitations allows for the filing of medical malpractice actions. Some states have specific retention periods for mammograms, so make sure you check out this requirement separately.
Optimally, medical records – and this includes medical x-ray film – should be kept for whichever period is longer—the statute of limitations or the prescribed retention period.
You Don't Need to Keep the Film
Just because you're required to keep the records, doesn't mean that you must continue to house the film. Micro-filmed and digitized images are generally acceptable for record archiving and storage unless otherwise specified by state or federal law. Microfilming and digitization are not appropriate for chest radiographs used to detect pneumoconiosis or other dust retention respiratory diseases, and for mammograms. The selection of other image storage techniques depends on the quality of the image in the alternative format.
Of Note:
Some states have laws requiring that hospitals or physicians try to contact the patient before his or her records are destroyed. For instance, in Maryland, after the death of a physician, the estate must forward a notice to the patient before records are destroyed or transferred; if the patient cannot be located, a notice must be published in a local newspaper about the date and location of the disposal. In Colorado, the patient must be notified before any records or x-rays are destroyed. In Hawaii, if a health care provider stops operations, he or she has to make arrangements for the retention and preservation of the records for the prescribed period, subject to health department approval. In Tennessee, records must be sent to the local department of health when a practice or hospital is closed. In Florida, the physician's estate must keep patients' records for one year from the date of death.
Guarding the Environment
Once you've determined just what you need to keep, in what format and for how long, then it's time to decide how to get rid of the X-ray film you no longer need to store. Here's where the EPA steps in, and HIPAA requirements still apply.
When it's time to destroy your X-ray film, you would be best served by contacting a company who is professionally authorized for X-ray destruction. These companies are authorized by the EPA to destroy X-rays using EPA-approved methods while maintaining HIPAA requirements. You can verify a company's legitimacy by verifying that they have an EPA ID number.
Destruction and Recycling
The x-ray films are removed their envelopes and separated from any paper records. The envelopes and papers will be shredded and recycled separately. The x-ray films are shredded, treated with a chemical wash to remove and recover silver, and neutralized any other dangerous compounds. Everything that is left after the silver recovery is PET plastic which is recycled.
Bottom Line
Know and observe all Federal and local laws regarding records retention when you decide to get rid of X-ray film. Use only a bona-fide EPA-approved firm to destroy and recycle the film.