X-Ray Film Scanners and Digitizers, X-Ray Film Scanning Services and Software
AcuScreenNDT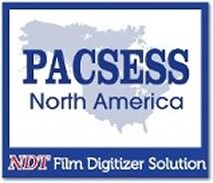 Lariviére's engineers have developed the software that will make your work with the Vidar NDT PRO much easier. Either with or without DICONDE support, this software will improve the performance of your film digitizer, giving you processing tools to enhance images and preserve every minute detail when converting them into digital form, which will enable you to correctly interpret radiographs.
AcuScreenNDT Gateway will allow you to adjust your scanner's brightness/contrast settings for dealing with darker older films. You won't miss any relevant specks and spots: porosities, burn-throughs, cracks, offsets and undercuts-you will nail them all on the digital image. You will be able to measure distances, areas, angles, as well as percentages of abnormalities (discontinuities) in particular ROIs. Make your own reports which will be stored with images in the database.
An extra software module will come with our Multi-Strip Film Feeder. The module will provide automatic configuration of the scanner with regard to the feeder: it will always distinguish the slots in use.
Multistrip-Film-Feeder
The specially developed by us multi-strip film feeder for the Nidar NDT PRO Digitizer enables for the first time a guided parallel digitization of several X-ray films. Our AcuScreen NDT software modules are specifically adapted to the digitized x-ray films with the feeder.
This increases productivity by up to 500%.
The feeder is available in various sizes.
AcuScreen NDT-Monitors
Our NDT-optimized X-ray monitors are specifically prepared for the NDT field. The devices are characterized by a high luminance, ultrahigh brightness (e.g.: 900 Cd/m2) and high contrast ratio. Our monitors are 20″, 24″ or 29″ tall and provide a resolution up to 6 MP (on request up to 10 MP). We guarantee up to 5 years or 30,000 hours Lamp warranty on the equipment.
Only ideally prepared special displays provide a necessary for the NDT-range viewing quality!
AcuScreen NDT-Workstation
Our NDT-optimized workstations contain, in addition to a high-performance computer with high-end graphics card and monitor, a special X-ray monitor, which is 20″, 24″ or 29″ large and has up to 6 MP resolution.
In the overall context, all included components are adapted to your necessities.
All components are tested multiple times, aligned directly with each other and you get a turnkey workstation!