X-Ray Film Scanners and Digitizers, X-Ray Film Scanning Services and Software
X-Rays in the Cloud
posted Aug-28-2014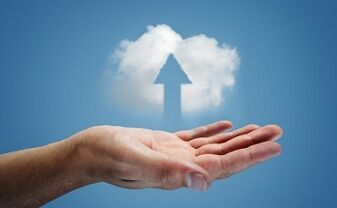 If you're still struggling with film X-rays, perhaps it's time to consider putting your X-ray film in the Cloud. Many radiology clinics have discovered that the combination of modern Cloud technology and
the instant information it provides anywhere, anytime, has simplified daily tasks. Indeed, new medical equipment that can enhance the abilities of dedicated medical personnel to serve the public combined with Cloud technology can make even the most remote facility state-of-the-art. Gone are the days when small-town and mobile medical facilities remained economically and technologically incapable of handling sophisticated medical imaging. With the introduction of secure cloud medical imaging storage and transport as well as the DICOM digital image format, rural and mobile medical facilities can easily access high-quality medical imaging.
Benefits of Digital X-rays
There are benefits to be gained by eliminating your old X-ray film and going digital in the cloud. If you currently store your X-ray film on site, the first and most obvious effect of eliminating the film is the improved use of space. If you rent storage facility space off-site, digitizing your X-ray film archives eliminates the ongoing rental fee for the space. Further, accessing them via the cloud, means that they're available 24/7 whenever and wherever you and your technicians need to access them. In addition digital X-rays in the Cloud:
Streamline work flow because there is no longer the need to physically file and retrieve the film as it is needed for review, referral or comparison.
Provide a low-cost and efficient way to store, view, duplicate, share and distribute X-rays.
Free up physical office space and even allows for less square footage or takes away the need to rent storage space. This change can vastly reduce overhead expenses.
Cut down on operational costs, because of lessened storage retrieval costs.
Allow resource allocation which can provide the opportunity to grow your business while remaining efficient and customer oriented.
About Cloud Imaging
Most cloud imaging systems are easy to use and provide HIPAA compliance, with encrypted security. Some can even be interfaced with an existing EMR. RSO is one such system. Since the system contains multiple encryption tiers, supervisors can assign passwords to personnel that authorize them to access isolated images, groups of images, or the entire digital imaging system, depending on their level of security clearance. The excellent encryption system also enables medical personnel to more easily comply with HIPPA regulations by more effectively limiting access to privileged information.
Not only does RSO enhance security with its easy-to-use system, but it also makes data storage much simpler. For instance, unlike old x-ray and PET scan systems, since this system is in the Cloud, maintaining digital images on it requires very little in-house IT equipment and maintenance. The digital X-rays are backed-up to multiple locations so that medical records remain recoverable in case of disaster.
Once X-rays have been scanned and uploaded to the digital imaging system, authorized users can view the images, and manipulate the quality of images to enhance brightness, contrast, or zoom. In this way, digital X-rays bear definite advantages over outdated film and provide medical personnel with greater ability to recognize and diagnose physical issues.
Getting Started in the Cloud
The easiest and most efficient way to convert large numbers of film X-rays to a digital cloud systems is by contracting with an X-ray scanning service. Some X-ray scanning services will scan your X-rays for free, with a subscription to their Cloud-based storage and transmission system.
Here's what an X-ray scanning service should provide:
The assurance of patient privacy and HIPAA compliance
Conversion of your x-ray images into a variety of file formats recognized by various third party applications and PACS systems. Some of the file formats you may need are: jpg, gif, tiff, pdf and DICOM files. An experienced X-ray digitizing firm should be able to accommodate nearly any file format request.
Be prompt in both pick-up requests and delivery requests.
Provide your digital files in a method that is convenient for you, either via CD, FTP, or Cloud transfer.
Handle large jobs as well as small jobs
Use only high-quality, reliable X-ray film digitizers, designed to accommodate the type of X-rays that you have.
Guarantee the quality of the scanned files
Offer a certified X-ray destruction and recycling service