X-Ray Film Scanners and Digitizers, X-Ray Film Scanning Services and Software
Microtek Medi-1200
Three templates cover five sizes of dental x-ray films — Size 0, 1, 2, 3, 4
Price: $ 880
Dental Digitizer for Intraoral films.
Designed specially by Microtek, the Medi-1200 can easily transfer traditional X-ray film into digital format for further use later. Smart-Scan function and dental film templates easily carry out the auto-crop function, scanning and processing multi-films in less than 30 seconds. The Medi-1200 offers 600 dpi optical resolution and 16-bit grayscale, ensuring that your scans will capture all the details presenting in light and darkness areas. In addition, designed with a space-saving consideration, the Medi-1200 occupies less space, and perfect for clinics. By MiPAX gateway software, the X-ray films digitized by the Medi-1200 can be easily and quickly integrated with PACS/ HIS system.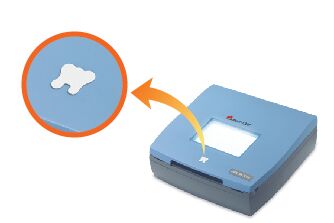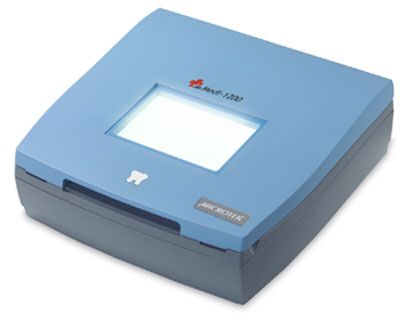 Features
SFDA certified
Smart-Scan to auto-crop multi-films scan at a time
Provides customized templates to scan intraoral films
Supports DICOM 3.0 and telemedicine with MiPAX-Dental
Easy to operate, clean, and maintain
Offers better quality, performance, and secure e-medical records



Specifications
Item
Details
Product Name
Medi-1200
Scanner Type
Dental films,
Flatbed digitizer
Image Sensor Type
CCD
Resolution
Optical: 600 dpi (42 um spot size, 12 lp/mm)
Hardware: Up to 600 x 1200 dpi
Default: 300 dpi
Light Source
Cold Cathode Fluorescent Lamp (CCFL)
Scanning Area
Film Scan Area
8.5″ x 4.5″ / 215.9 x 114.3 mm
Reflective Scan Area
8.5″ x 5.5″ / 215.9 x 140 mm
Scanning Speed
27 seconds @ 300 dpi, Size 2 (Scan 8 jobs)
Dynamic Range
Transparency ≧ 0.15 to 3.20D
Bit Depth
8/12/16-bit grayscale
Connectivity
Hi-Speed USB (USB 2.0)
Drivers
TWAIN
Smart-Touch Buttons
1 button(Scan)
Dimensions (L x W x H)
300 x 297 x 110 mm
Weight
4.4 kg
Regulatory Compliance
SFDA, BSMI, CB, CCC, CE, ETL, FCC, RoHS
Power Source
AC 100V ~ 240V, 47 ~ 63 Hz
System Requirements PC
CD-ROM drive (for installing software)
2 GB RAM or more
Pentium IV PC or higher with USB port
Microsoft Windows 7 / Vista / XP / 2000
Inbox Contents
Digitizer unit
Power adapter & power cord
3 Film holders
High-Speed USB 2.0 cable
CD(s)
Manual(s)
Software Included
Microtek ScanWizard Medi Smart
Adobe Acrobat Reader
Accessories
Microtek MiPAX-Dental software (Optional)
Product specifications described herein are subject to change without notice.