X-Ray Film Scanners and Digitizers, X-Ray Film Scanning Services and Software
X-Ray Digitizing Service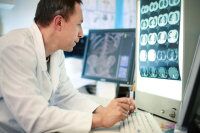 Now, you can take full advantage of your Picture Archiving and Communications System (PACS) by freeing up precious space using our efficient and cost-effective x-ray film digitization service and storage that will allow you on demand access to the images you store with us.
Our company has the experience of scanning projects of half million (500,000) x-rays per job. Outsource to us your large x-ray scanning projects.
Radiology Services Online can help you manage film and digital images in both your PACS and our web-based storage application. Through our cost-effective approach to converting analog films to digital images, you can:
Improve radiologist productivity
Increase accuracy of interpretations and conduct remote diagnosis
Streamline workflow
Reduce costs
Avoid the high cost of equipment purchases, upgrades and maintenance
Optimize your film management
Free up valuable floor space for expanded revenue-generating opportunities
Our web-based application for storage is an ideal service for those providers that either plan to implement or have recently implemented a PACS. We make it simple, fast and affordable to transition to today's newest technologies for handling of images and patient health records.