X-Ray Film Scanners and Digitizers, X-Ray Film Scanning Services and Software
Vscan NDT Pro Non-Destructive X-Ray Film Digitizer
The Vidar NDT is now Vscan!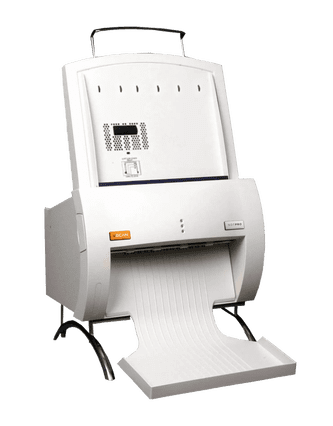 This new Vscan is the Vidar NDT – it is still made by 3DS, and serviced by 3DS.
The VSCAN NDT PRO is a non-destructive x-ray film digitizer that can meet your specific needs. This Industrial Film Digitizer can be used in petrochemical, medical, aerospace, and many more industries.
Thanks to its scan rate of 92 lines per second, you'll appreciate a fast alternative to other scanners on the market. In addition, the VSCAN NDT PRO is priced reasonably, so you'll spend less for this film digitizer.
Even though it can handle film from 2.36" wide up to 200" long, it features a very small overall footprint and is incredibly lightweight. This makes it the perfect addition to any office.
The VSCAN NDT PRO has a proprietary Automatic Digitizer Calibration (ADC) feature and High Definition CCD (HDCCD) technology, giving you crystal-clear image quality with every scan.
You'll notice excellent grayscale conversion with all images scanned by this digitizer.
VSCAN Advantages
ADC and HDCCD technology

for higher image quality.

Long-life and replaceable light source

for increased reliability.

ISO 14096 Class DS

for better optical density range.

Can use film from 2.36-14" wide by 8-200" long

for more versatility.

In batch mode, uses 25 mixed-sized films

for better productivity

.

Does not require calibration

for lower annual upkeep costs

.