X-Ray Film Scanners and Digitizers, X-Ray Film Scanning Services and Software
Microtek NDT-2000 Film Digitizing System
2023 Demo model available now, with only 124 scans, for $26,000.
NDT-2000 Film Digitizing System is a down-to-earth digitization solution developed exclusively by Microtek for use in NDT/RT industry. This is a modified model from the MII-900 Plus which is able to provide better industrial digitizing images. Used together with MiiNDT, an image analyzation, and management software, it is capable to offer more effective solutions for NDT/RT business which want to step into the field of digital management.

The NDT 2000 scanning 3-up at once
Besides retaining great functions of the original MII-900 Plus, such as 1200-dpi (21μm) optical solutions, 16-bit grayscale, and exclusive AFF and multi-channel trays, NDT-2000 adopts better optical density via innovative image technology and therefore it can enrich image layers and meet with high requirements about image quality from the NDT/RT industry.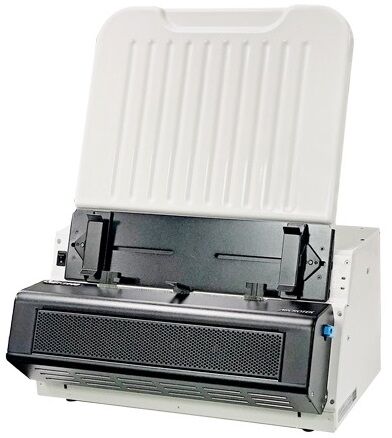 Features
Equipped with 1200 dpi resolutions, 4.5D optical density, and 16-bit grayscale
Green LED improves image capturing efficiency
Optional AFF and multi-channel tray enhance working efficiency
Maximum scanning area is up to 14"x200", supporting most sizes of industrial films
Bundled with multi-functional image management software, including functions of file building, searching, measuring, annotating, zooming, report making, saving and burning; meeting with the DICONDE standard
Supports image formats of DCM, BMP, JPEG, and TIF
Supports both lossy and lossless compression formats of JPEG 2000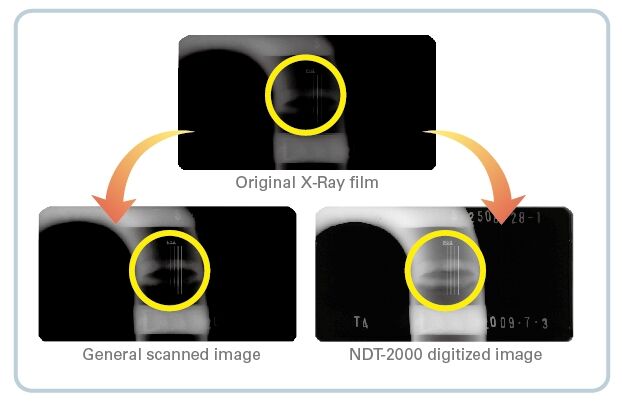 ---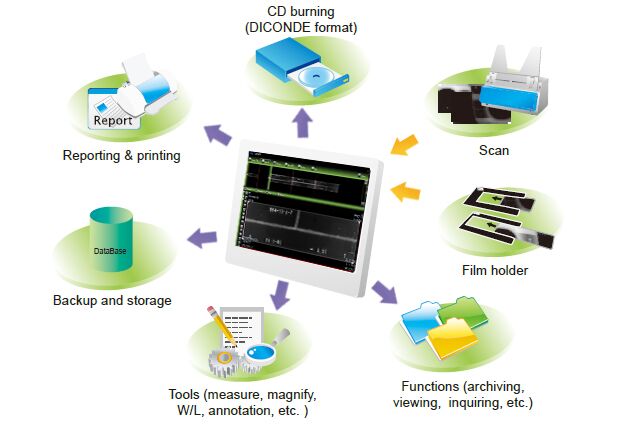 Specifications
Item
Details
Product Name

NDT-2000

Scanner Type
Sheet-fed film digitizer
Image Sensor Type
CCD
Resolution

1200 dpi (21 μm)

Model Type
MSS-1200XU2LF
Scanning Area
14" x 200" (355.6 mm x 5080 mm)
Scanning Speed
@ 300 dpi in grayscale per 14" x 17" film
DA mode : 58 sec.
DB mode : 110 sec.
DS mode : 232 sec.
Dynamic Range
0.5D ~ 4.5D based on ISO 14096, DS 10.0
Bit Depth
8 / 16-bit grayscale
Paper Size
Min: 2.5″ x 2.5″ (63.5 x 63.5 mm)

Max: 14" x 200" (355.6 mm x 5080 mm)

Connectivity
USB 2.0
Dimensions (L x W x H)
12.9″ x 18.7″ x 8.8″
(329 mm x 474 mm x 224 mm;
Film holders are not included)
Weight

44.5 lbs. (20.2 kg)

Certifications
CE, FCC, BSMI, ETL, CCC, RoHS
Power Source
AC 100V to 240V, 50/60 Hz,
4.0A Max (Input)
Power Consumption
320 Watts

System Requirements PC

• DVD-ROM drive (for installing software)
• 4GB RAM or above
• Pentium IV PC or higher with Hi-Speed USB (USB 2.0) port
• Microsoft Windows XP / 7 / 8 /10

Optional Accessory

AFF: 15 pieces of film at one time
(Min: 2.5" x 10"/ Max: 14" x 17")
Multi-channel tray: 3 pieces of film
in the size of 30.5 x 8 cm
Product specifications described herein are subject to change without notice.